Depuis 1970, La Vieille Ferme produit des vins authentiques, sincères et goûteux. Présente sur les listes de certains des plus grands restaurants au monde comme sur celles des meilleurs bistrots, La Vieille Ferme est unanimement reconnue.
Histoire
L'histoire
La Famille Perrin, également propriétaire du Château de Beaucastel, recherche pour ce vin les terroirs les plus adaptés à la réalisation d'un vin fruité et gourmand. Sans prétention, c'est l'archétype du vin de plaisir : authentique, sincère, gouteux.
Le millésime
2009 est un grand millésime dans la Vallée du Rhône Sud. Il combine un très joli fruit, une bouche ample et harmonieuse, une finale friande et se caractérise par une structure de tannins très fins.
Situation
Les vignobles s'étendent sur les pentes du Mont Ventoux. L'altitude apporte la fraicheur qui permet de conserver une bonne acidité dans les raisins. Le vin qui en résulte est frais, gourmand et équilibré.
Terroir
Varié selon l'altitude. Vignobles en majeure partie sur des sédiments géologiques déposés par les mers de l'ère tertiaire à la base du massif calcaire du Mont Ventoux. Sols rouges méditerranéens issus de calcaires durs du crétacé, des éboulis calcaires, des alluvions anciennes à cailloux ronds.
Elevage
Adaptée au type de vin, au cépage, et liée au caractère des producteurs. Vendanges presque toujours foulées mais non égrappées et vinifi ées en cuve ciment de 150 à 300 hectolitres. Contact prolongé avec le marc et décuvaison sucre épuisé. En cuve et foudre (15%) pendant 10 mois. Mise en bouteilles en juillet, août après collage et fi ltration sur plaque.
Cépages
Grenache
Syrah
Carignan
Cinsault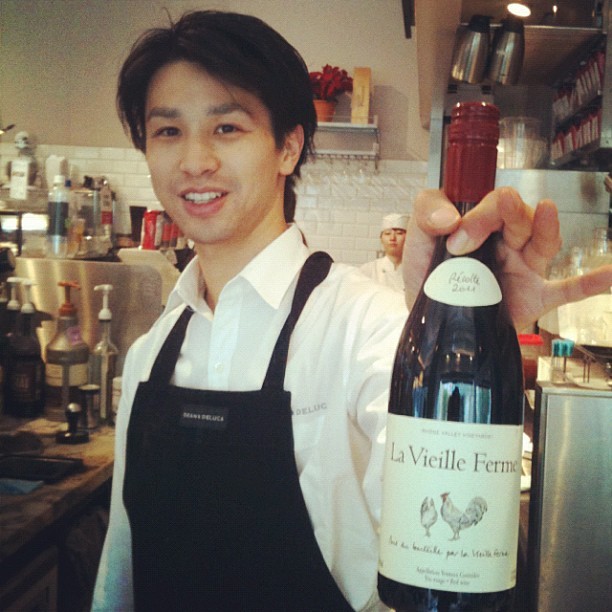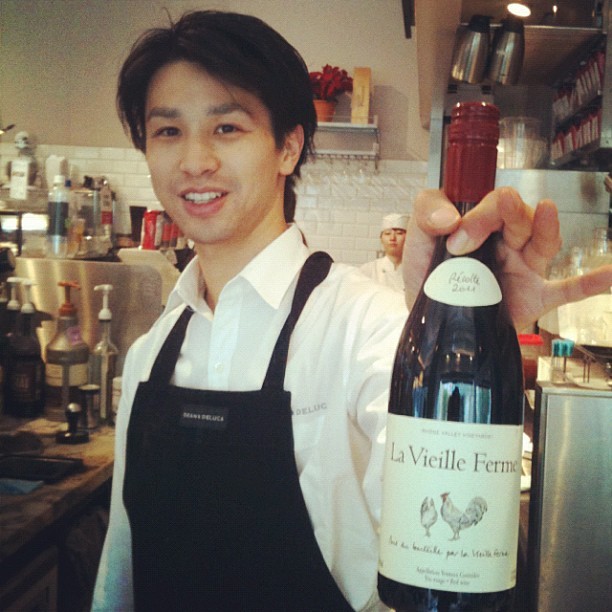 Avis
"'This is a wine for those who want great quality and delicious drinking...'
"
"

Les années passent et ce vin du Rhône demeure un achat sûr. Des saveurs fruitées pures et expressives, de la chair et un bon équilibre. On se régale pour pas cher.

"
"

One of the 200 great values from around the world.

"
"Back in the 1970s, when I was a young fella who hadn't started writing about wine and really didn't even know all that much about it except that it was good, the New York Times food writer Craig Claiborne belted out a hymn of praise to a "little" French wine called La Vieille Ferme, "the Old Farm."
Pay no attention to the fact that this wine came from the Côtes-du-Rhône, Claiborne advised, even though in that day if French wine didn't come from Bordeaux or Burgundy it didn't win much respect. It must have sold for around $2.50, a pretty good price in the day when $5 bought very good wine and the $6 point was for celebrations and holidays.
Then as now, La Vieille Ferme was made from Southern Rhône grapes selected and bottled by the Perrin family, owners of noteworthy Rhône properties including the iconic Chateau de Beaucastel Chateauneuf-du-Pape.
And over the years it hasn't changed much. When Côtes-du-Rhône finally started to earn the respect it deserved and prices went up, the Perrins moved around the corner and down the road to the Côtes du Ventoux in Provence. In recent years they've also changed the label from a drawing of, well, an old farm, to one of poultry on the hoof, so to speak, in the barnyard. Neither of these changes much altered what's in the bottle; and a recent shift from natural cork to sturdy metal screwcap is a clear positive in a wine at this price.
I liked it then. I like it now. The 2008 is drinking nicely, and the 2009 should start turning up in your local wine shop soon. "
"

As it was in the '70s, so it is now: La Vieille Ferme is hard to beat for value in a traditional Rhône red. U.S. prices, per Wine-Searcher.com, range from $6.50 to $9.99. It's a buy even at my high-end local price; if you can find it for $7 or less it's an insane bargain.

"
"Okay, this choice is hardly original, but the 2009 is particularly worthy of your attention.
Here is a bargain way to enjoy the ripeness in the southern Rhône that resulted from the exceptionally warm, dry summer of 2009. La Vieille Ferme 2009 Ventoux (as the appellation known until 2008 as Côtes du Ventoux is now known) is made from grapes grown at cooler, higher altitudes than the Châteauneuf-du-Pape vineyards about which I have been writing in such detail this week (see Rhône 2009 - a guide) and at rather higher yields, so the grapes were juicier and the wine is much simpler, fruitier and designed for much earlier drinking - now in fact.
Mont Ventoux is the cone-shaped mountain you can see in the distance from so many southern Rhône vineyards and is cool enough to be snow covered for much of the winter. The grapes for this wine - typically 50% Grenache, 20% Syrah, 15% Cinsault and 15% Carignan - were grown on its flanks at up to 300 m above sea level. The wine is fermented in cement and aged in large old oak barrels until bottling in July.
La Vieille Ferme is the creation of the talented Perrin family, whose family estate, Château de Beaucastel, is the source of some of the finest red and white Châteauneuf-du-Pape (see my enthusiastic review of their latest restaurant venture in Gigondas). But La Vieille Ferme is their well-established négociant label, meaning that they buy in the ingredients and make and market the wine in considerable quantity. When the vintage is right, these Vieille Ferme wines can represent exceptional value.
It must be made in considerable quantity because, according to Wine-searcher.com, it seems to be available in literally hundreds of American wine stores and is also available throughout Europe and in Australia.
In the UK at the time of writing, it is available at Cambridge Wine Merchants for £6.99 (or the equivalent of £6.57 if bought by the dozen), at Majestic for £7.49 or £11.98 for two, and it will be back in stock at Waitrose Wine Direct (after their 25% off special offer which seems to have cleared it out) at £6.37 just as soon as stocks have been replenished - expected to be towards the end of next week. I just hope that this latest shipment is as chock full of spice and sunshine as the one I tried.
This is a friendly, exuberant, fruity wine made to be enjoyed over the next 12 months, with casual meals. I could very easily imagine it with sausages and mash. Screwcapped for ease of use and maximum freshness."
"

The Perrin family, owners of the renowned Chateau Beaucastel in Châteauneuf du Pape, have consistently made solid "everyday" wines under their Vieille Ferme label from grapes and wine they purchase. A blend of Grenache, Syrah and Cinsault, it delivers a mid-weight combination of fresh cherry-like fruit flavors and zesty spice notes. A good choice for anything from pizza to burgers.

"
"

The Perrin brothers produce one of the great-name Rhône wines in the (very expensive) Château de Beaucastel and apply the same quality control to this label, which delivers exceptional value for the price. Medium-bodied, but richly spicy and earthy, it is cheap enough to accompany one of my favourite supper dishes for this time of year – a warming stew of mussels or clams with chorizo and potatoes – but would not disgrace a dinner party.

"
"

Bright ruby. Lively red fruits and spices on the nose and in the mouth. Light-bodied and a bit jammy but shows good energy and clarity. Finishes clean and brisk, with lingering bitterness and a touch of cracked pepper. Given its production level and price, this wine's quality is most impressive. It's also available pretty much everywhere.

"